This post was initially private and just for the dedicated Facebook KLF groups. Now that the Graduation is completed, this collection is available to all.
Huge thanks to the incredible 400 plus all those on the Facebook KLF groups who helped put this list together.
If there are any cards missing, then please get in touch via Facebook messenger or at www.scaramangasi.lk.
We currently need (plus any others you know of):
Perch Catching Assistant (aka Strong Swimmer)
Ragwort Feeder Leg 1
Any other job cards not included below…
JAMs – Job Cards
The 400 individuals who managed to get tickets for 'Welcome To The Dark Ages' were informed that they would also be 'volunteers'. Details as to what this meant were not supplied at purchase or before arrival…
On the Tuesday 22nd August and the morning of Wednesday 23rd August, ticket holders were instructed to attend the Dead Perch to swop their tickets for wristbands. During this exchange, each participant was then asked to pick a 'skill' from a list of eight items (or choose none at all). There was no context supplied as to how or when such a skill would be used or the ability level required…
On the afternoon of 'Day 1' – all the 'volunteers' congregated at Constellations, Liverpool. It was here that they then found out what the number they had selected as a skill would mean for them as a job…
Almost…
Not all of the eight initial skills required all 400 volunteers. Other tasks were also needed…
Each 'volunteer' was issued a job card…
Even then, full context was not clear…
Collection of the job cards…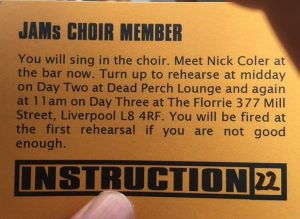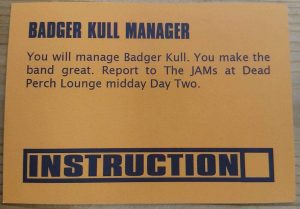 And these…